babbling brooks
I love to have friends and family in my home. I really stress about getting everything just the way I like it, but I am getting better at pre-planning and also at just having a Bloody Mary and letting the details go. I hope that these parties might inspire you to enhance some gatherings of your own!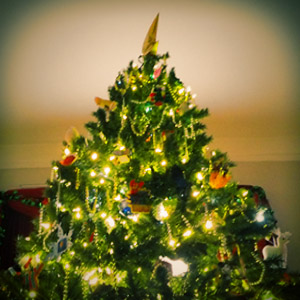 My favorite time of year brings my favorite party. My birthday is just five days before Christmas, so has often been overlooked. When I would try to throw some kind of shindig myself, most of my dear ones were not able to make it, due to the hectic social calendar of the Season. Many years ago, I hit upon the idea of a Tree Trimming party. It was so successful that it continued without a pause for over a decade. Click in to see the twists I added to make it fun and successful year after year.
My kids love the game Angry Birds, so we have had two parties with this theme. The first was very early in the game's popularity, so there were no party decorations, tableware, or favors available yet. I made the few items that were available (like stickers) do double-or triple-duty! The second year was a little easier, since more was available, but I think I came up with a few imaginative decorations and activites anyway.
© 2016 arizona brooks creations, llc