babbling brooks
angry birds birthday party
invitations
My son chose the Angry Birds theme two separate years, so I made two slightly different invitations. If you are looking for the Angry Birds font, it is called "Feast of Flesh" (coincidentally, this is also the font for the word "Wild" in the Wild Kratts logo). I feel that custom-printed invitations are far too expensive, so I find a picture on the internet, then customize it to a 4x6 size. Rather than use up all my printer ink, I send it to Wal-Mart, Hyvee, or another inexpensive photo printer, where they are usually under $.25 each to print. If I want to get fancy (or need to provide more information), I get some bright card stock and glue it to the back. Our family lives just a block from the Elementary School, so most often, the kids just walk over after school. To make sure there are no issues at pick-up time, I include a generic permission slip with the invite. It is up to the parent whether they use it or not, but serves as a good reminder either way.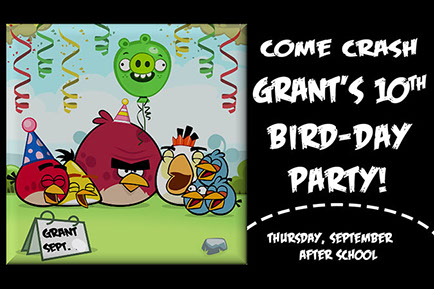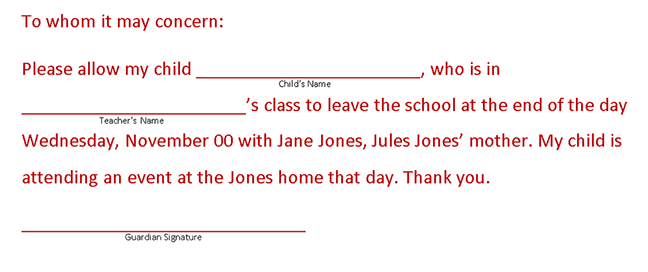 cake
Ebay has every kind of cake topper you can think of, and most of them are customizable. Even before Angry Birds party supplies were available in stores, several enterprising ebayers had Angry Birds edible toppers available for a reasonable price. My son likes to have an ice cream cake, and our local Dairy Queen was very accommodating. I brought in the printed sheet a few days in advance, and they placed it and added the frosting. Perfect.
decorations
The first year we had the Angry Birds as a theme, the only items I could find in stores were little stickers and some wall decals. I hit Pinterest and searched the web for more resources and ideas. My favorite from that year was using some premade wall decals and some construction paper for the dining room walls. I gave the peices to my son so he could build his own "game levels". I wish I would have added a light blue "sky" of streamers the first year to camoflage the strings the balloons were hanging on. I got the printable bird and pig faces from ThePartyAnimal-Blog.org A favorite tip: paper table covers are inexpensive, but I have found them nearly useless for covering tables. I usually do buy one or two and trim off the decorated border to use as wall or door decor! In the same vein, I often use a plain color plastic table cover outside, then tape one of the big decorations intended for wall decor as a table cover. When the kids are sitting down, no one sees the table skirt, just the top, which is usually plain on store-bought covers.
activities
There are so many fun things to do with an Angry Birds theme, it is hard to not make the party go on for hours and hours! The first year, the kids were younger, so I included a craft; the second year, then kids were a lot bigger, so we made the games more physically challenging. My craft idea what the simplest ever: make your own Angry BIrd or Pig. I bought a pack of craft foam and stencilled on some circles and ovals on the appropriate colors. I made available orange for beaks, black for brows, brown for pig mustaches. I set these out on the deck table with google eyes, scissors, and glue sticks and let them go at it.
There are two activites that were really popular: real-life Angry Birds, and Search for the Golden Eggs. When the kids were younger, I found some slingshots (with foam ball ammo) as a party favor and to use to knock down "levels" made from regular wooden blocks. I pinned up a white sheet to catch any overshot, and found some inexpensive tiny plushies to populate the level. Each player got one of the little plushies (meant for keyrings or backpacks) to take home, along with their slingshot (I put numbers on the slingshots and ammo, so each child could keep track).
The second year, we used this idea, but embiggened it: I painted some playground balls with Bird faces, and set up empty cardboard boxes on the lawn. We tucked in a few green balloons and punch balls with pig faces for more realism. The kids took turns chucking the balls at the boxes to knock down all the pigs. They had a great time.
The Search for the Golden Eggs was played both years, at my son's request. When the kids were younger, we kept them in our yard; the second year I made them run between our yard and the vacant lot next door for maximum tiring out! I just used plastic Easter eggs that we had already, just painted them gold. The last egg had little baggies with a bouncy ball and some candy inside. The clues I used are shown just to get your imagination going!
food
I tend to go very simple on the food, as the kids seem to like it better, and I am more relaxed on the day of the party. The photo at right has been pinned more times than almost any other of my party ideas; I hope it inspires you!
I simply labeled chicken nuggets as "Broiled Angry Birds", pigs-in-blankets as "Fried Pigs", and Bugles snacks as "Extra Beaks". Bam. Done.
I always include lots of fresh fruit at my kids' parties, and it always gets eaten. Give it a try!
© 2016 arizona brooks creations, llc